3commas Review – Crypto Trading Bots
3Commas is an automated crypto trading bot software and terminal that connects to 18 major exchanges. The goal of the platform is to help users grow their crypto portfolio in any market conditions using automated strategies either created by the user or copied from other users of the platform.
It's easy to connect 3commas to your favorite crypto exchange and start your automated trading journey. In this article, we'll give a full 3Commas Review as well as some set up and strategy instructions.
3Commas Review
Summary
3commas is a crypto bot trading software that helps users automate their trading for any market condition. The software offers integrations with 18 major exchanges, a smart trading view, and some of the most advanced and customizable crypto trading bots on the market. If you're looking to automate your trading like a pro, 3commas is your best option. The platform is relatively cheap and it is easy to get started with the basic bots right away.
Ease of use

Features

Community

Price
Pros
Well priced
Excellent bot presets
Copy trading & Active Community
Advanced bot development
Smart Portfolio Analysis
Cons
Can't use with all exchanges
A bit of a learning curve to go beyond bot presets
How Much Does 3Commas Cost?
3commas has 3 monthly pricing plan options. There is a free version, a starter pack for $14.50 a month, an advanced version for 24.50 a month, and a Pro version for 49.50 a month. The primary difference in the tiers is the access to type and quantity of trading bots.
Users can also sign up for 3 days free of full access to the 3commas bot.
3Commas Review – Features Offered
3commas is feature rich both in terms of bots, smart arders, terminal views and more. Below is a list and brief description of some of the features offered with a 3commas membership.
Related Reading: 114 Days of 3Commas Trading Bot – My Results
Smart Trade
3commas offers a smart trading terminal that is suitable for both advanced and beginner traders. Using the smart trading terminal, users can set up risk management and profit maximizing solutions through automated order types that help better time entries and exits into crypto trading pairs.
From the smart trade dashboard 3commas users can view advanced charts, display trading buy or sell signals for trading pairs, and set stop loss and take profit orders on trading pairs.
Dollar Cost Averaging Bots (DCA Bots)
DCA bots enable users to enter positions at preset intervals so that they can average out their entry cost over a period of time. Using a Dollar Cost Averaging Bot is easy for traders of any level and reduces volatility risk that comes from trying to time the market.
Grid Bots
A grid bot divides a price range into smaller "grids of buy and sell orders" and then automates the process of taking profit that comes from market volatility.
For instance, when the price dips slightly, the bot will trigger a buy order. When the price rises to the next horizontal line in the grid, the bot will automatically sell some of the coins that it bought at the lower price point.
Grid bots are directional in that the market moving with you or against you will make a positive or negative difference in your performance. However, Grid bots are also great for a sideways or crab market where the price of the underlying asset is simply fluctuating around one price.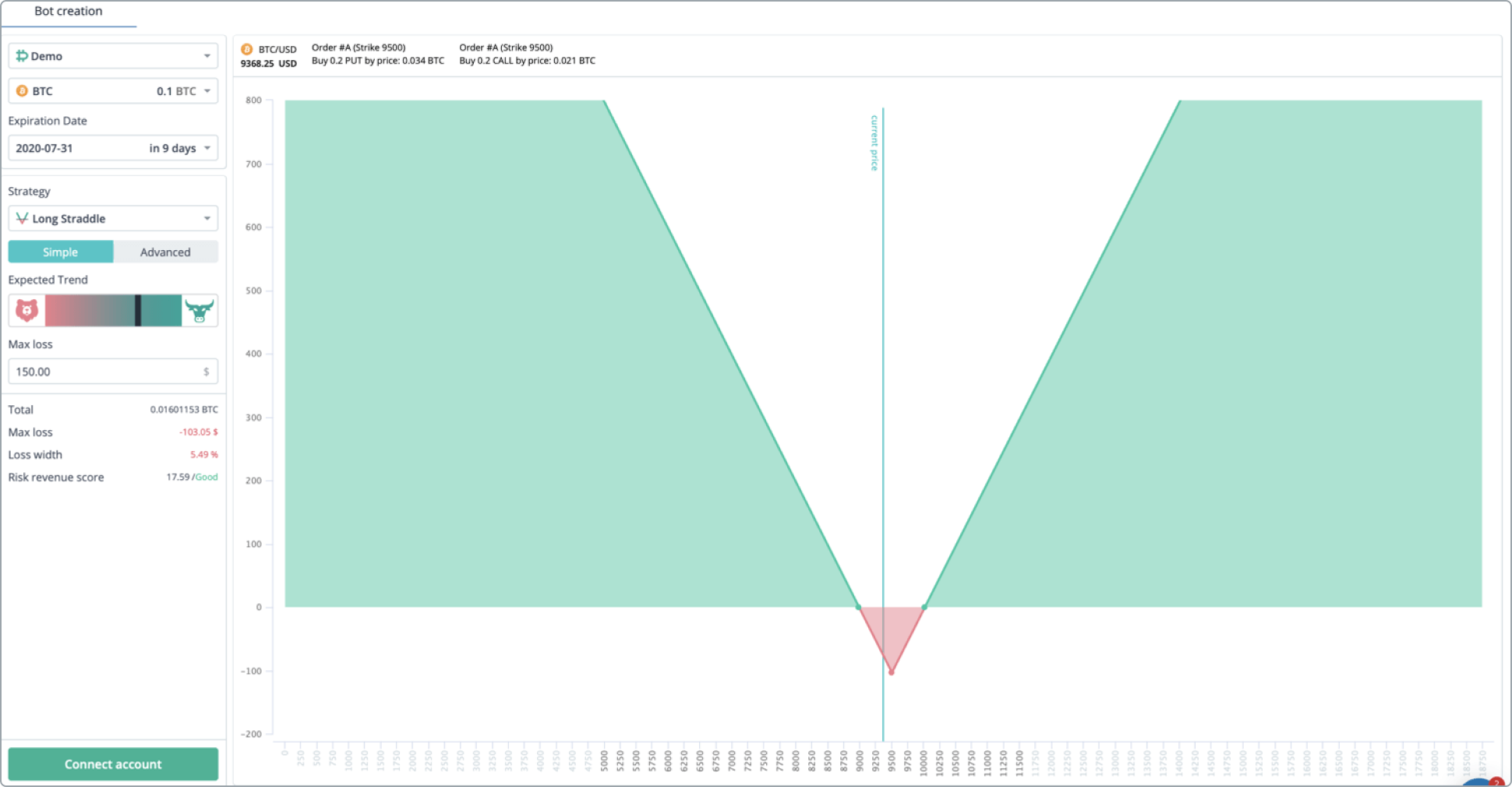 Options Bot
Options trading has a variety of strategies and is often reserved for only advanced traders. However, with 3commas options bot users can set up complex options trading strategies like Long straddles in just a few clicks.
Beyond the quick and easy set up, the 3commas has an excellent interface for options that will help traders better understand when they are in the money and out of the money given their particular options strategy.
Paper Trading
Paper trading is the ability to mimic trading moves without using real money. 3commas has created this mock trading environment inside of their terminal so that users can create, test and optimize their bto trading strategies without putting real money at risk right away.
Bot Presets
3commas offers a variety of presets for their crypto trading bots. This allows users to skip the learning curve by copying the strategies of advanced traders. It can also give advanced traders a starting point as you can modify the bot presets to your liking.
Crypto Signals
Crypto signals is a trigger to create a buy or sell order on a coin. Signals come from the signal provider, an experienced trader who is executing a buy or sell order based on their expert opinion. There is a marketplace where you can browse various signal providers and create a bot that is triggered and controlled by that activity.
Scalper Terminal
Scalping is the process of creating many high volume small wins for a profit. Using the 3commas scalper terminal, you can set up conditional orders like trailing take profit and more to maximize your scalping efficiency.
Portfolio Tracking
3commas integrates with 18 major crypto exchanges and you can view your aggregate positions and portfolio value across all connected exchanges within the 3 commas trading dashboard. This is an excellent feature for traders who use more than one crypto exchange and want to have one comprehensive view across all exchanges.
What Crypto Exchange Integrations Does 3commas offer?
3commas integrates with over 18 major crypto exchanges for spot trading and derivitives. Those exchanges are:
Binance
Binance US
Binance Futures
Bitfinex
BitMEX
Bitstamp
Bittrex
Bybit
ByBit Futures
Coinbase Pro
Crypto.com
Deribit (Options)
FTX
FTX.US
FTX Futures
Gate.io
Gemini
Huobi Global
Kraken
KuCoin
OKX
Poloniex
Is 3Commas Safe?
3commas is safe because it has zero access to withdraw or transfer currencies out of an exchange. The bot system simply connects to exchanges through a set of encrypted API keys.
Further reading: What Is The Safest Crypto Exchange?
Is 3commas Bot Profitable?
3commas enables traders to save an enormous amount of time and trade around the clock.
While trading cryptocurrency always comes with risk, automating trading strategies through 3commas reduces human emotion and enables more of a consistent chance of profit than manual trading strategies.
How many people use 3commas?
There are over 30,000 traders who use 3commas to automate their crypto trading. The 3commas bots send over $10 million in daily volume through their API connections with other exchanges.
3Commas Crypto Trading Bot Review Conclusion
3commas is one of the best solutions for automated crypto bots. The platform connects to the most popular crypto exchanges and aggregates data across all of your active positions.
Furthermore, the trading terminal offers users advanced analytics and smart order functionality that is additional to what is offered by the exchanges. Couple the extremely customizable and feature rich trading bots with the community and signal marketplace, and you have a world class crypto trading bot solution with 3commas.
Related articles: